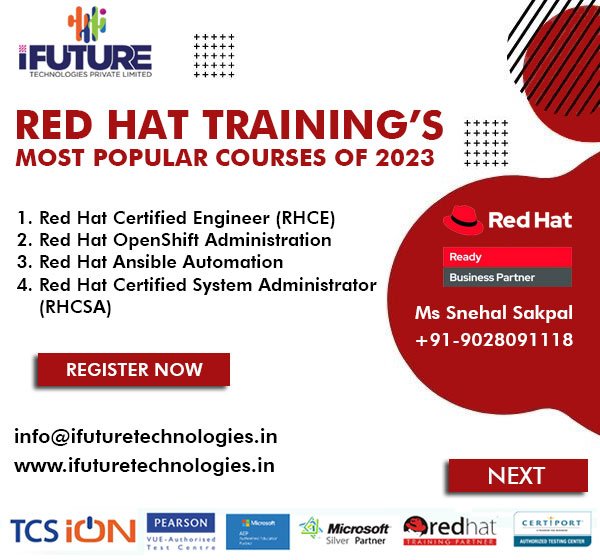 Red Hat Training's Most Popular Courses of 2023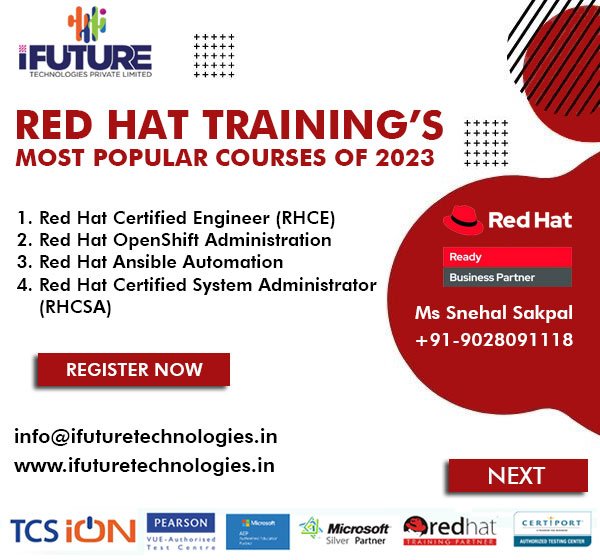 Welcome to iFuture Technologies, your premier destination for Red Hat Certification Courses in Kalyan and Thane.
Elevate your skills and secure your future with Red Hat Training's most popular courses of 2023. Whether you're an experienced IT professional or just starting your journey, these courses offer invaluable knowledge and certification opportunities that will propel your career to new heights. Below, we've compiled some key information about each course, along with frequently asked questions to help you make an informed decision.
1. Red Hat Certified Engineer (RHCE)
Elevate your Linux skills: The RHCE course is designed to take your Linux expertise to the next level. It equips you with the knowledge and skills required to manage and configure Red Hat Enterprise Linux systems effectively.
Ideal for system administrators: RHCE is ideal for professionals who manage, configure, and troubleshoot Linux systems. It's a must-have certification for those who want to stand out in the field of system administration.
Achieve certification in English: This course is offered in English, making it accessible to a wide range of global learners.
FAQs for RHCE:
Q1. Is there a prerequisite for the RHCE course?
A1. Yes, you need to hold the Red Hat Certified System Administrator (RHCSA) certification or have equivalent knowledge and experience.
Q2. How long does it take to complete the RHCE course?
A2. The duration varies depending on your prior experience, but the course typically spans 4-5 days of training.
2. Red Hat OpenShift Administration
Master container orchestration: This course is essential for DevOps professionals who want to excel in container orchestration using Red Hat OpenShift. You'll gain the skills to manage and deploy containerized applications efficiently.
Vital for DevOps professionals: DevOps experts seeking to enhance their container orchestration knowledge will find this course invaluable in their career growth.
Available in English: The course content and training materials are available in English, ensuring comprehensive understanding.
FAQs for Red Hat OpenShift Administration:
Q1. What prerequisites do I need for the Red Hat OpenShift Administration course?
A1. A strong foundation in Linux and basic system administration skills are recommended.
Q2. How long does it take to become proficient in OpenShift Administration?
A2. Typically, this course is conducted over 4-5 days, but your pace of learning may vary based on your existing knowledge.
3. Red Hat Ansible Automation
Automate IT tasks efficiently: This course focuses on automating IT tasks using Ansible, a powerful automation tool. You'll learn to streamline repetitive tasks and increase operational efficiency.
A must for sysadmins: System administrators looking to simplify their workflow and reduce manual workloads will greatly benefit from this course.
Taught in English: The course content and instruction are delivered in English for ease of comprehension.
FAQs for Red Hat Ansible Automation:
Q1. Is prior knowledge of Ansible required for this course?
A1. While it's helpful, the course covers Ansible basics, so prior experience is not mandatory.
Q2. How long does it take to become proficient in Ansible Automation?
A2. The course typically spans 4-5 days, but your journey may vary based on your starting point and pace of learning.
4. Red Hat Certified System Administrator (RHCSA)
Kickstart your Linux journey: RHCSA is the perfect starting point for beginners in the world of Linux. You'll gain essential skills in system administration and be well-prepared for more advanced certifications.
Perfect for beginners: If you're new to Linux, this course provides the foundational knowledge needed to excel in the field.
English instruction available: The course is accessible in English, making it suitable for a wide audience.
FAQs for RHCSA:
Q1. Is RHCSA certification globally recognized?
A1. Yes, RHCSA is a globally recognized certification, and it's highly respected in the IT industry.
Q2. What can I expect to learn during the RHCSA course?
A2. You'll learn fundamental Linux system administration skills, including tasks like configuring and managing systems, creating and managing storage, and more.
Don't miss the opportunity to advance your skills in 2023 with these sought-after Red Hat Training courses. Your path to success begins here. Enroll today and embrace a brighter future in the world of IT.
Share this Image On Your Site
<a href="https://www.ifuturetechnologies.in/red-hat-trainings-most-popular-courses-of-2023/"><img style="width:100%;" src="https://www.ifuturetechnologies.in/wp-content/uploads/2023/11/red-hat-training-1.jpg" alt="Red Hat Training's Most Popular Courses Of 2023"></a>